The CSS and HTML responsive pricing table template can help you to show up various pricing plans or price comparison. While building an E-commerce or service website such a table is much required.
So, If you are looking for high-quality ready-made pricing tables for your commercial projects, You can find them here.
All of the tables are fully responsive and work well on all types of devices. You can easily customize them as you like to best fit within your website design. All of our collection of pricing tables are free to download and available demo version so that you can easily choose.
In this article, You will find around 15 best pricing table templates for easy integration.
If you already thought of your unique list to impress the visitors then go ahead and create amazing looking templates from these below pricing templates I have got for you.
The good thing is that these free responsive pricing templates have tutorials that will help you create your style of design.
Please share in your valuable comment on this find and if these were useful enough.
Ok, Let's go through the list and pick one or more which you most like.
1. CSS3 Pricing Table
The first is a clean, straightforward and white color combination. It provides four different packages to display. Enhancing the beauty of your website is ready.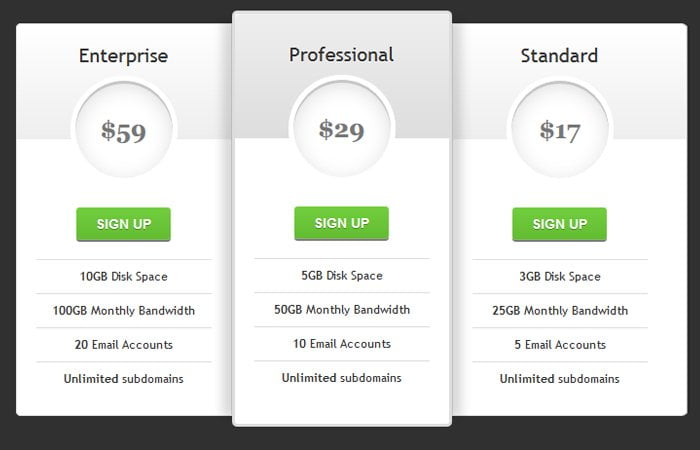 2. CSS3 Pricing Table
The flat design pricing table is perfect for an e-commerce site. Its designs by professional design with minimal CSS.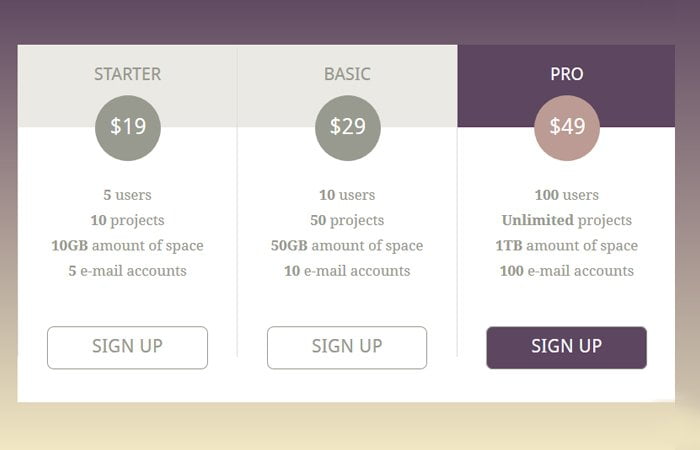 3. Flat Pricing table
Flat and colorful table with excellently written text which is easy to customize and work well on mobile.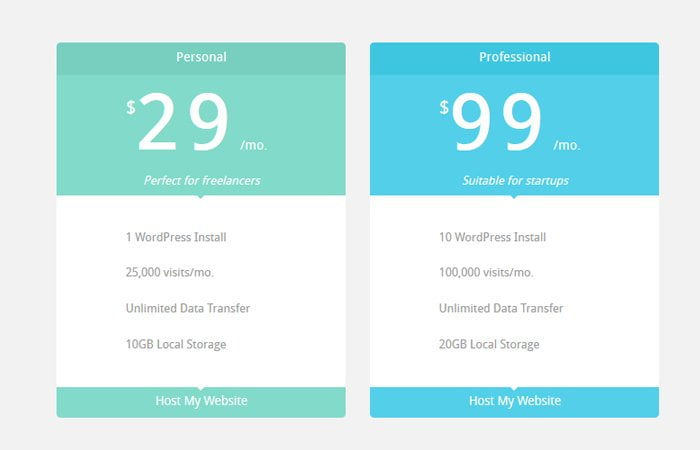 4. Responsive Flip Pricing Table
It flips the table on hover to show the different packages. It has a simple CSS switcher that allows seeing different content on the same table.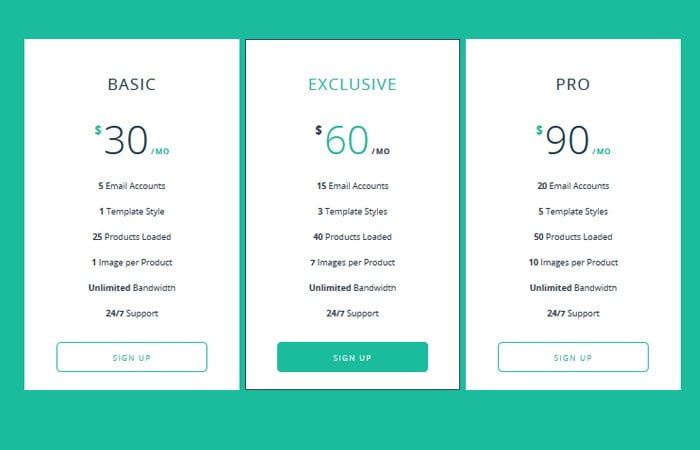 5. Flat Pricing Tables Design
Another colorful design and three packages. The design is pretty impressive and developed in HTML/CSS.
6. Pure CSS Pricing Table
Highlight one of the package to attract the user. That's what done in this pricing table. The color combination is just perfect.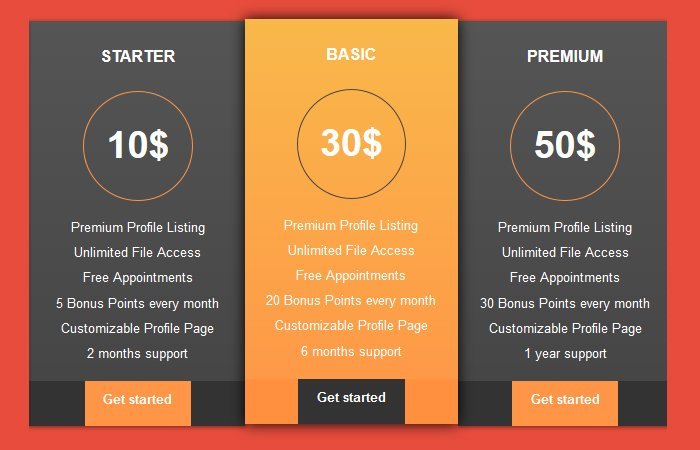 7. CSS Pricing Table
Look like a bit old in design but still look good. Responsive and load faster.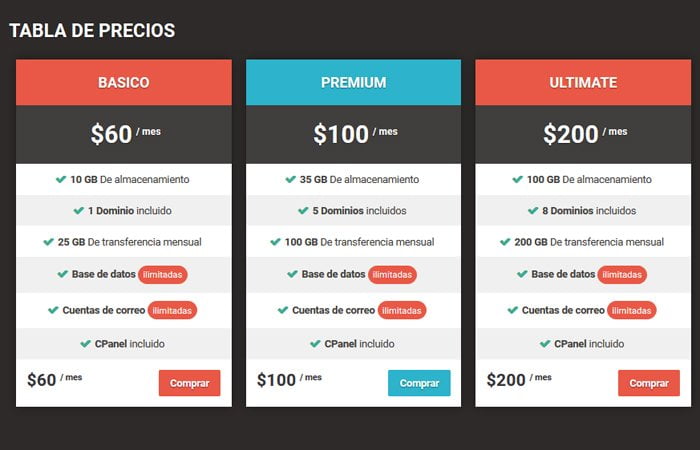 8. Black CSS Price Table
Black color design tables are different in design and stand out the middle one to add creativity.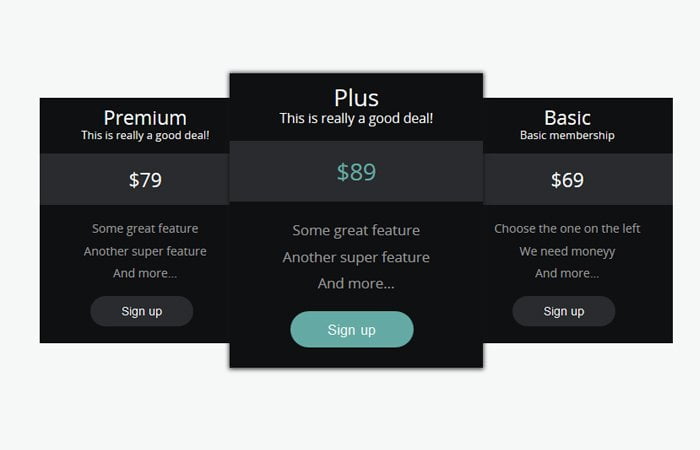 9. Responsive CSS Price Table
Fully responsive, add to cart button, heading and prices make this table look awesome in design.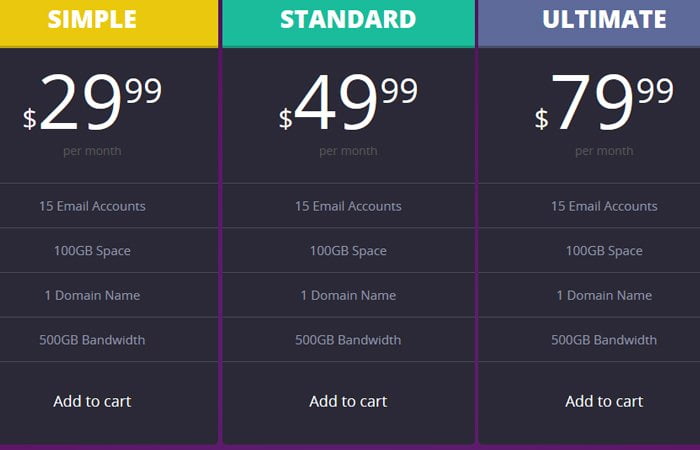 10. Colorful Pricing Table
Straightforward and clean with the ability to add more content. You can easily customize as you like to do.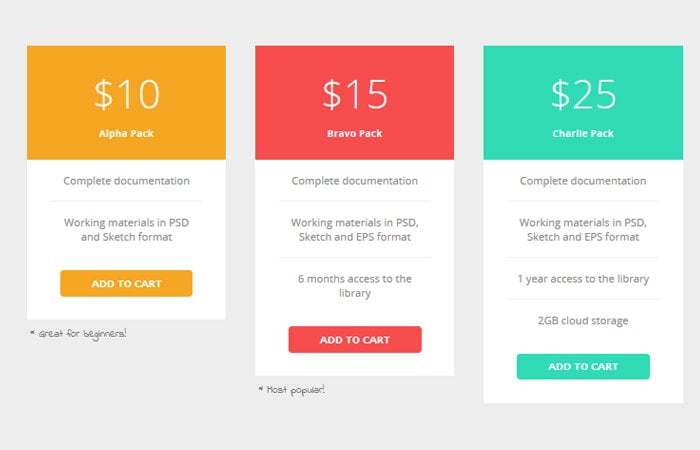 11. CSS3 HTML5 Pricing Table
It builds with CSS3 and HTML5 with a different design as compared to others. It has a unique border and nice font selection.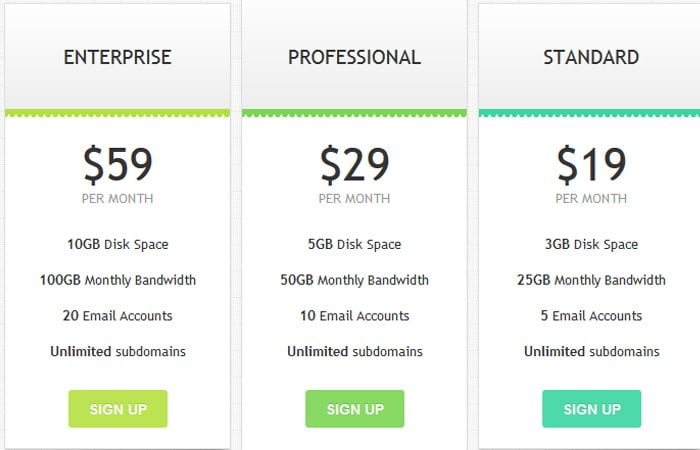 12. CSS3 Responsive Pricing Table
How about this pricing table? Don't you think it compact and look awesome? Close attention to details.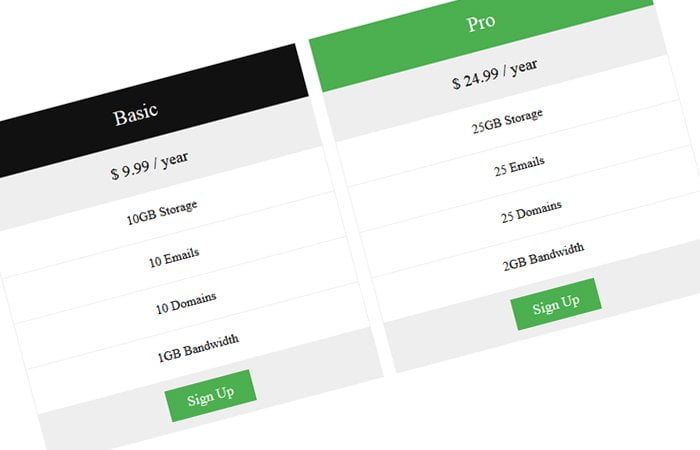 13. Mini Pricing Table
This mini table is best to use If you don't want to list much of the details. It is mini and just provides some important basic info.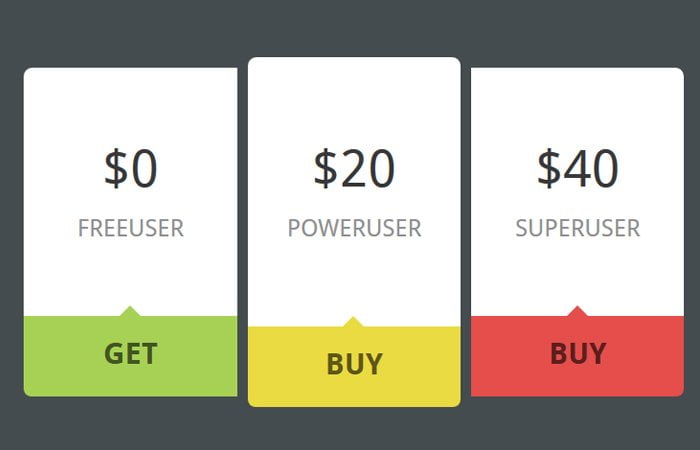 14. Pricing Table Template
Different colors and cleanly coded templates make your website look in the right way.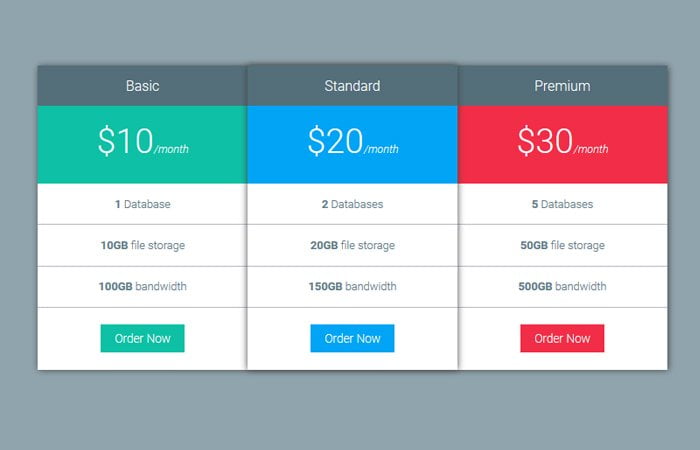 15. Responsive Pricing Table Design
Fully responsive and modern design with pure CSS. This table looks greater in such a color combination.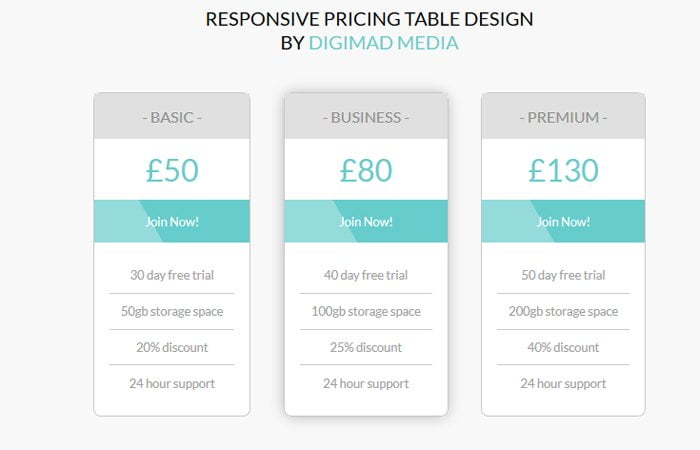 16. Pricing table with one Column Highlighted
It is one column highlighted table which developed by Pali Madra. It is an excellent example of a pricing table with a nice looking column.
There are four packages and each one design very well with the same height except recommended which has more height out standout.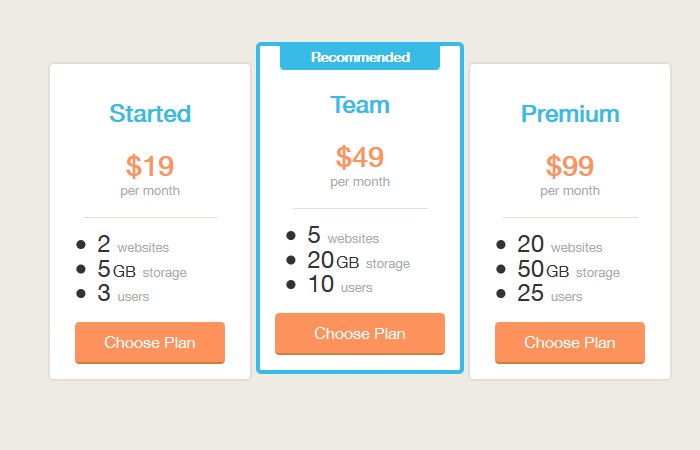 17. Material Responsive Pricing Tables
It is a clean, simple and white background responsive CSS pricing table. There are three different plans with each a unique icon to represent the plan description.
It also has a nice hover effect when mouse over any package. When mouse hover, It provides a clean zoom effect and changes the color of heading an icon with a purchase button.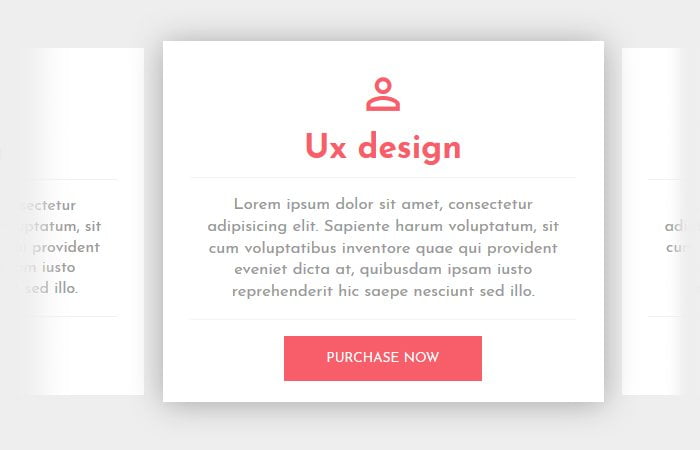 18. Hosting Pricing Comparison
Looking for a conventional pricing table for your web hosting company? Check out this sample table which created by Stéphane Diez showing off their front-end skills.
The color scheme is just perfect to use any kind of website layout. You can change the color easy and replace dummy content.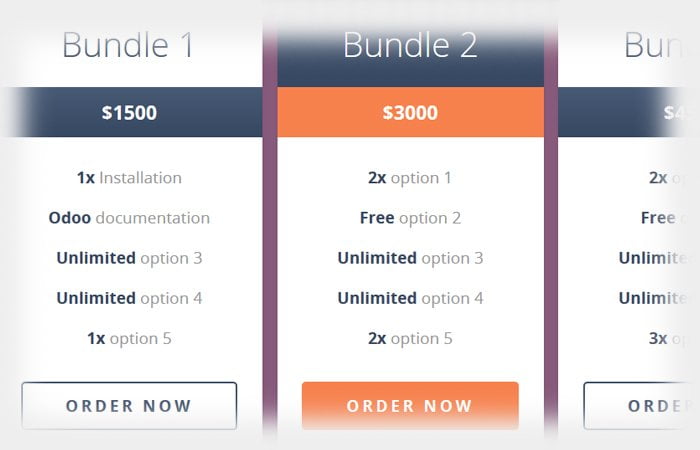 19. DNRB Pricing Tables
Simple beauty and stunning design price comparison table will surely stand out your site design. This table really looks awesome with the function of a blur.
When the user hovers over a plan, the rest of the plans will blur out to stand out the selected plan. It designs with three color strong colors that may not fit for your site but don't worry, you can edit them from the stylesheet.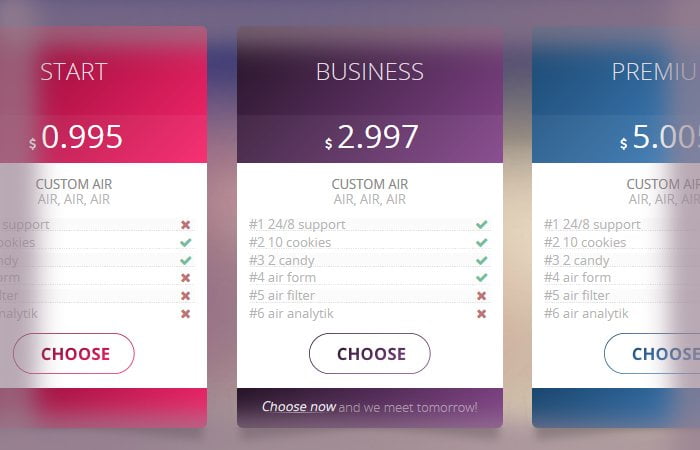 20. HTML CSS pricing table
Lastly, We have a little old day look design pricing table but still, look great. It coded with minimal HTML and CSS and have all the important information.
Its design for hosting companies but you can replace the content and can use it for any kind of service website.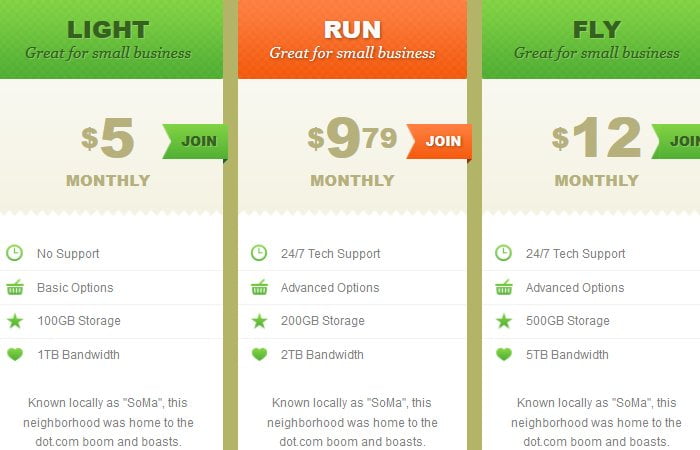 Making a pricing table from the start takes much of time and need a lot of tension to detail. Why not go with readymade? Yep, It will save a lot of time.
Not only this, We can get a unique design and perfect color combination. So get from the list which you like most of the one which perfects for your design. All of these are free!
Right now we have 15, But we will update our list as soon as we get another CSS responsive pricing table. Please share and leave feedback about this list of tables.